The gift of therapy offers an opportunity to gift sessions to someone or to spread out and manage the cost of your therapeutic journey. This is is an ideal gift for a Counsellor in training or a couple committed to the therapeutic process. Simply chose the amount you wish to gift, along with the details of the gift recipient and the vouchers can be either sent through the post by first class mail or emailed directly to you for you to print out.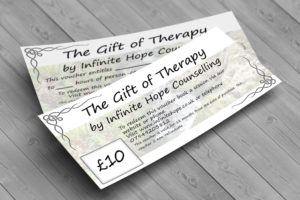 Terms and Conditions
The voucher must be used within 12 months of the date of purchase and is non-refundable.